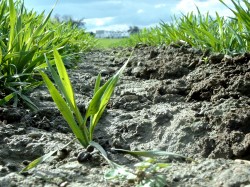 Grace Hills will soon exist because of God's calling on the lives of Brandon and Angie Cox. Brandon has been a Pastor for fourteen years and for at least ten of those years, God has been whispering to them about this great task. Brandon and Angie have spent the last year on staff at Saddleback Church in Lake Forest, California, during what they believe to be God's final phase of preparation and training for what lies ahead.
Brandon recently wrote about the planting of Grace Hills…
Over the last decade, Angie and I have had numerous conversations about church planting. We've talked in hypothetical terms many times and have said things like "God might just be preparing to use us to plant a church someday." Now, someday is here. In July of this year, our family will be relocating back to Bentonville, Arkansas to plant a new church.

This decision fits perfectly with the flow of what God has been doing in us. Isn't it just like God to move us from a community we loved so much across the country to put us in one of the best training facilities available (Saddleback Church) and then confirm His calling in our lives to go back to Bentonville.

We could write endlessly as to "why" we believe God brought us through Saddleback. We believe whole heartedly that we are returning to Arkansas changed people. The biggest lesson God has been teaching us is to simply "trust". Moving our little family to California was a big leap of faith. God has honored that step and has been more than faithful. We have had the opportunity to learn from the best church leaders you will find anywhere. They have invested in us and we feel called to carry what we've learned and go "be the church" in Northwest Arkansas.

Pastor Rick Warren has set a course for Saddleback that includes planting hundreds of churches in the next decade and Geoff Surratt, Pastor of Church Planting, is helping to implement that vision. And guess what? We get to go first! We get to be, as Geoff put it, Saddleback's "guinea pigs" for what the process looks like…

Angie and I are ready to go where God has called us and spend the rest of our lives reaching, teaching, and loving a community for Jesus Christ… We definitely ask for your prayers, and that's the greatest way you can help us. Pray for details to fall in line, for financial provision, for spiritual protection, and for the community of Bentonville to be receptive to our coming there to serve the needs of the people.

Source: BrandonACox.com.
So please do pray for us. And if anything you've read has created in you and interest in being part of this new church plant in some way, please contact us to start a conversation. We'd love to hear from you!
Comments
comments